Car Accident Lawyer Van Nuys
When you are injured in a California car accident because of someone else's negligence, you may have a hard time recovering from your injuries without the guidance of a car accident attorney. Without the help of a car accident lawyer in Van Nuys, you may struggle to get the maximum compensation for your claim.
Worse, you may not be compensated at all. The Van Nuys car accident attorneys at The Law Offices of Rosenstock and Azran are here to help. If you have been involved in a traffic collision and need help with your recovery, reach out to us.
Choose The Law Offices of Rosenstock and Azran for Your Van Nuys Car Accident Claims
Car accidents are complex, scary, and painful, and a car accident claim can be just as difficult to overcome. In these cases, you may know you need a Personal injury lawyer, but how do you know who to choose? Our legal team offers stellar service and a track record that is hard to beat. Here is what you can expect when choosing our firm.
We Are Recognized for Our Work
After an auto accident in California, you want legal representation you can rely on. Our car accident attorneys offer aid and support that our peers recognize.
Our firm is part of the Top 100 National Trial Lawyers; we have been certified as a Google Screened law firm; we have the highest ranking with the Better Business Bureau; and we are recommended by the team at Expertise. Our team also has a track record of outstanding, high-dollar results for our clients, not settlements that do not cover their expenses. Our awards and standing among our peers show we are here to help.
We Have Decades of Experience
When you are injured in a California car accident, you need a law firm with experience fighting cases like yours. That experience can make a big difference in the courtroom.
Our law firm has worked for thirty years to help clients like you succeed. Our seven decades of combined experience can make a big difference in your settlement.
We Do Not Give Up
When you seek compensation, you do not want a firm that is ready to settle fast. While it is nice to have some money now, quick settlements may not cover all your needs. Our lawyers are ready to take your claim to court if the at-fault party is unwilling to pay fairly for your damages.
Steps to Take After Motor Vehicle Accidents in Van Nuys
After an auto accident, your first step is to call 911. Next, you should get information from the other driver, gather material evidence (witness identities; photos and video of vehicle damage, license plates, drivers license, insurance card, important objects, roadway skids, debris field, fluids on the road, visual obscurations, dangerous conditions of public property such as the roadway itself; video of statements or behavior by others; surveillance camera video, etc…) and report the accident to your insurance company. Even if you do not accept a settlement offer, your insurer needs to be aware of the damage as soon as possible.
Before you file a claim, be sure you get a police report; it can be a key piece of evidence since it is a firsthand record of what happened during your car accident. Finally, contact a law firm that is ready to help you succeed. The right lawyer will represent you in the courtroom to ensure you get the funds for your recovery.
Insurance Claims for a Car Accident in Van Nuys
When you need coverage for a Van Nuys auto accident, you may consider accepting a settlement from your insurer. Car accident claims are intimidating, and the offer may sound fair.
However, car accidents are often very expensive, and your mounting medical expenses alone may leave you without the compensation you need for your recovery. Talk to your lawyer about your claim's value, and if the insurance company is unwilling to work with you, talk with our auto accident attorneys about a lawsuit.
Damages for Van Nuys Car Accident Victims
When you are hurt in a Van Nuys auto accident, you need to ensure your economic damages and non-economic damages are covered. These should include all financial, emotional, and mental suffering you experienced because of the accident.
Below is just a sample of the damages you may include when seeking maximum compensation:
Medical bills (past and future)
Emotional pain (past and future)
Property damage
Income loss (past and future)
Pain, suffering and Mental anguish (past and future)
Out of Pocket expenses (past and future)
In home care (past and future)
Medical devices
Unsure what your compensation is worth? A Van Nuys car accident attorney can help you understand your legal options, calculate your damages, and determine whether you are receiving a fair settlement offer or should consider litigation.
What Happens After a Fatal Van Nuys Car Accident?
Some car accidents are fatal and if a loved one was involved in a Van Nuys auto accident and passed away, you may have grounds for compensation through a wrongful death claim.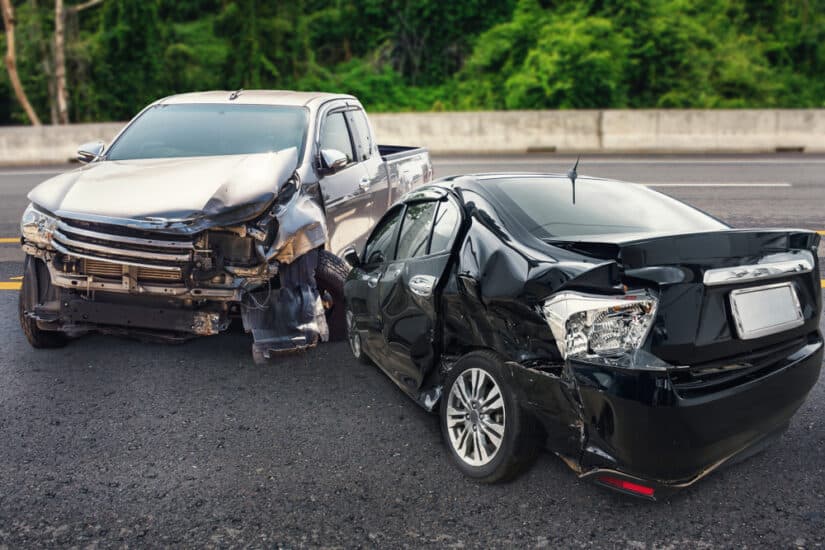 In California, a wrongful death action and a survival action are two (2) different types of legal claims that can be brought in the event of someone's death. The first is a Wrongful Death Action, which is a civil lawsuit that is brought by the surviving family members of the deceased. That would include the surviving spouse, children, or parents, seeking compensation for the losses they have suffered as a result of the death. These losses may include funeral expenses, medical bills, lost income, and loss of love, care, comfort, affection, companionship and support.
The second type of wrongful death claim is known as a Survival Action, which is a legal claim that can be brought by the Estate of the deceased person, to sue for compensation that the deceased person could have sought if they had survived the incident causing their death. Damages claimed in that type of action may be for pain and suffering, lost earnings, and medical expenses incurred before the person's death.
If you believe you have grounds for a wrongful death lawsuit, reach out to our attorneys for compassionate guidance through your legal claim.
Talk with a Car Accident Attorney in Van Nuys
Van Nuys car accidents can be devastating and you may be unsure where to turn after an auto accident. Your compensation is on the line, you are hurt, and you may not have the support you need.
A Van Nuys car accident attorney can help you recover. Our car accident lawyers at The Law Offices of Rosenstock and Azran are ready to help you from your free consultation to the final judgment on your lawsuit. When you are ready to speak with an auto accident lawyer that offers the services you need, reach out to us for your free consultation. We can be reached by calling (818) 986 2052 or by filling out our online contact form.