Slip or Trip and Fall Accident Lawyer Encino CA
---
You may be under the impression that if you slipped or tripped, resulting in a fall while visiting a retail establishment, restaurant, market, office building, apartment building, public property, public park, or private residence, it is your fault and there is no action you can take. Although slip or trip and fall accidents can indeed happen anywhere, in many cases, it is true that the individual or entity who failed to maintain the area free of hazards or adequate warnings can be held liable. This is because a property owner, management company, and lessee has a responsibility to their visitors and guests to keep the property free from dangerous conditions. When this duty is not fulfilled, the property owner, management company, and lessee could be at fault and, therefore, legally liable for the injuries and other losses incurred by visitors and guests.
If you or a loved one have sustained injuries after slipping or tripping and falling on someone else's property, you should talk with a lawyer who is familiar with slip or trip and fall accidents in Encino CA. The team at The Law Offices of Rosenstock and Azran is knowledgeable about every aspect of personal injury law and is prepared to listen to your story and help you receive the compensation you deserve. Call our office for a free consultation and case evaluation, so you can focus on your injuries and recovering your health.
Image:https://www.rosenfeldinjurylawyers.com/slip-and-fall-accidents.html
FAQ
What are some common causes of slip and fall accidents?
There are countless reasons people may slip and fall and sustain injuries. Here are a few examples of our most common cases:
Because there were cracks in the pavement
Due to the location not having had enough lighting
Because carpeting was torn or curled up
Liquids were spilled on the floor and not cleaned up promptly
Unmarked depressions in the ground
Because the staircases had no handrails or the handrails were loose
Due to products having been left on the floor
Stray electrical wires or cables across the floor
What should you do if you slip and fall at a property?
If your injuries allow, it is essential to notify the property owner or manager about the accident as soon as possible. They should provide you with an incident report, which will be useful when you file an accident report with the company. Your slip and fall attorney in Encino from The Law Offices of Rosenstock and Azran should also receive a copy of the report, which will be helpful when you decide to file a claim.
What types of damages can you recover after an injury due to a slip and fall accident?
Depending on the circumstances of the accident and the type of injuries you sustained, you may be eligible to receive compensation for the following damages and losses:
Wages, tips, commissions, bonuses, and other income you have lost
Property damage
Physical impairment
Disfigurement and scarring
Mental health concerns
Diminished quality of life
Loss of companionship
Pain and suffering
And others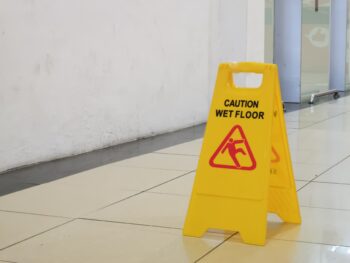 What grounds are needed for a personal injury case?
If you slip and fall and suffer injuries at someone else's property in Encino CA, you and your attorney will need to demonstrate your injuries were sustained due to the negligence of the property owner or their manager and staff. Proving there was negligence means legal action may be warranted. During your initial consultation, we will listen to your story and investigate the accident. This is to gather the necessary elements to prove there was negligence involved.
What is the duty of a property owner?
A property owner or manager has a duty to keep their premises in a reasonably safe condition. This includes keeping sidewalks, walkways, parking lots, and other areas free of items that can cause visitors or guests to slip and fall. In any case, you expect to find reasonably safe conditions.
What must a slip and fall attorney in Encino CA from The Law Offices of Rosenstock and Azran establish to impose liability in a slip and fall accident?
Your slip and fall attorney can help establish the property owner or manager:
Knew or should have known of the presence of a dangerous condition, and should have realized this condition presented an unreasonable risk of harm
They should also have anticipated anyone entering their premises would not have been aware of the danger or would have been unable to take precautions against it
Failed to exercise reasonable care in providing you with protection against the danger
What can you expect from a slip and fall accident lawyer from The Law Offices of Rosenstock and Azran in Encino CA?
When you obtain legal representation from The Law Offices of Rosenstock and Azran, you can expect:
Constant Communication
Your lawyer will never be further away than a phone call or text. You will always receive a reply to your questions and concerns.
Support From a Law Firm You Can Trust
You are not the first slip and fall case we handle. We have had success in countless cases like yours, resulting in substantial favorable recoveries for our clients.
We always provide individualized service, fully informing all our clients of their legal process, and clearly explaining your options and the probable outcome for each. We treat each case as if it is a "million-dollar case" to capture every dollar you are entitled to. Schedule your initial consultation today.