Car Accident Attorney Encino
---
Located in the San Fernando Valley region of Los Angeles, Encino has had many collisions, especially on Ventura Boulevard and Balboa Boulevard. Left turn dispute cases (where a car makes a left turn in front of a vehicle in oncoming traffic) as well as red-light dispute cases can be particularly challenging for less experienced personal injury attorneys. We have extensive experience (spanning many decades) in these, as well as all other, accident scenarios, with a proven success rate.
Once proving liability (who is legally at fault and responsible for the accident), our work doesn't stop there. We conduct a detailed and technical analysis of our clients' injuries, symptoms, and complaints from the accident to help our clients receive the best possible recovery for all of their medical expenses, out-of-pocket expenses (including car repairs and loaner cars, when appropriate), future related medical expenses, loss of earnings, pain, suffering, and mental anguish.
Less experienced attorneys may not recognize the fine details necessary to prove liability, or understand the technical medical issues which often make the difference between an "Okay" recovery, and a "Great" recovery which is thorough and truly fair. The help of an experienced and aggressive car accident lawyer, like The Law Offices of Rosenstock and Azran is vital in such cases.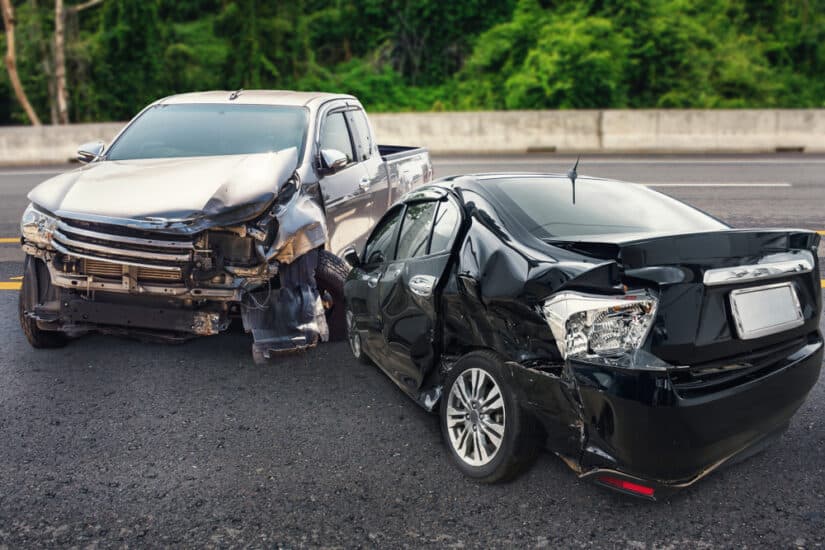 Why Should I Hire a Car Accident Lawyer?
In California, car accidents statistics are generally high due to the state's large population. In 2018, 1069 people lost their lives in California car accidents caused by drunk driving. Almost 42% of all drivers killed in car accidents tested positive for drugs, whether illegal or not. Unfortunately, Encino car accidents leave hundreds of people with terrible and life-threatening personal injuries, whether they are pedestrians, passengers, or other drivers.
If you have been involved in a car accident in Encino, CA, this traumatic event can cause many damages, including severe injuries, lost income, property damage, or future medical expenses. Severe car accidents can cost thousands of dollars in medical expenses and other damages, so it would be best to seek legal help from a car accident attorney.
Call us today at (818) 986 2052 to discuss your case. Call a car accident lawyer at The Law Offices of Rosenstock and Azran for a free consultation if you have suffered injuries due to another driver's negligence or reckless actions. Our legal team will do everything that California laws allow to ensure your rights are protected and that you return to your everyday life as soon as possible. Our Encino car accident attorneys will fight for your case, allowing you to rest and heal. Let us do the hard work while you recover.
Why The Law Offices of Rosenstock and Azran Is The Right Car Accident Law Firm for Your Case
Choosing the best Encino car accident attorney for your case can be as stressful as dealing with the aftermath of your accident. No matter the type of accident you have been involved in, it is our goal to get you the compensation you deserve. We also pride ourselves on providing you with clear and informative advice every step of the way.
There are plenty of legal firms in North Hollywood, so what makes our team at The Law Offices of Rosenstock and Azran stand above the rest? Let's begin with the fact that we are one of the longest-running firms in California. We have over 75 years of knowledge under our belt, and we use it to your advantage. This combination of knowledge and longevity makes us uniquely equipped to take on your case.
Our case results speak for themselves. Here are a few of the many verdicts we have achieved for our clients:
$3 million in compensation for a defective roadway accident
$1.5 million awarded for wrongful death (motorcycle) accident
$4.25 million in compensation for a burn victim
$650,000 in a products liability/ defective chair
$370,000 in assault/ battery and negligent supervision
Our dedication to our clients is recognized by our peers and the legal community. Here are some of the accolades we are most proud of:
A 99.9% success rate
Accredited by the Better Business Bureau (BBB)
Highly Recommended on Alignable
Rated best auto accident lawyer by expertise.com in Simi Valley In 2022
Rated best car accident lawyer by expertise.com in Canoga Park in 2023
5-star Google rating
Voted a Top 100 Law Firm by The National Trial Lawyers
You can feel confident that you made the right choice when you choose The Law Offices of Rosenstock and Azran. Call us and get the results you deserve.
Encino Car Accident Statistics
Most drivers pass through Encino along the 101 and 405 Freeways, and as a result, most auto accidents occur there. According to the National Highway Traffic Safety Administration, in 2018, the San Fernando Valley had 18,202 traffic accidents, 90 of which were fatalities. Moreover, 8,991 of those accidents were hit and run, while 465 were DUI-related.
Other hazardous areas in Encino, CA include:
Ventura Blvd.
Reseda Blvd.
Burbank Blvd.
White Oak Ave.
Hayvenhurst Ave.
Balboa Blvd.
Victory Blvd.
Lindley Ave.
Mulholland Dr.
The Most Common Causes for Car Accidents in Encino, CA
People can be involved in car accidents for various reasons. If you or someone you love has been in an auto accident in Encino, do not hesitate to reach out to The Law Offices of Rosenstock and Azran. While we can't prevent car accidents from happening, we will do our best to help you and your family get fair compensation.
Our Encino auto accident attorneys are legal professionals who have the expertise to navigate the legal system in California.
Some of the most common causes of car accidents in Encino include, but are not limited to:
Distracted driving – texting, emailing, checking social media accounts, looking at the GPS, and so on
Speeding – this is the number one cause of all motor vehicle accidents in the United States, including Encino
Driving under the influence (DUI)- driving while intoxicated or under the influence of alcohol and drugs is very common and highly dangerous.
Bad weather – harsh weather conditions can impair drivers' vision or their ability to control their vehicles.
Disobeying driving rules – reckless driving and ignoring California traffic laws may endanger everyone sharing the road.
Neglected vehicle maintenance – not taking care of a vehicle or servicing it when needed may lead to unexpected car accidents.
Failure to yield
Whatever the reason for your Encino motor vehicle crash, it is crucial to get the legal assistance of an Encino auto accident lawyer to help you get compensation for your damages and injuries. At The Law Offices of Rosenstock and Azran, we will fight for your rights and dispute any measures the other party may use against you. Our Encino car accident attorneys will investigate all the evidence to ensure a strong car accident claim and seek a fair settlement for your injuries and financial losses.
The Most Common Injuries from an Encino Car Accident
Encino car accidents can result in different types of injuries, depending on the accident's severity. Some of the most common car accident injuries are:
Spinal cord injuries
Nerve injuries
Broken bones
Torn ligaments
Concussions
Cuts and lacerations
Crush injuries
Amputation
Loss of vision and hearing
Soft tissue damage
Wrongful death
The most severe accidents can lead to catastrophic injuries that cause paraplegia, quadriplegia, or head and brain injuries. Victims can present symptoms for days or weeks after the accident, including discomfort, dizziness, or pain. Also, some car accident injuries may not appear immediately after the accident.
Regardless of your injuries, you must always seek medical help after an accident. The medical reports will serve as crucial evidence to your car accident claim when negotiating your settlement offer. If you fail to seek medical help, your car accident injuries may worsen over time, or your car accident claim may be harder to prove.
What Should I Do After an Encino, CA Car Accident?
Nothing can prepare you for a car accident, and the process of a car accident claim can be overwhelming and time-consuming. For starters, if you or someone you love has been in a car crash, you need to remain calm. Check for injuries and if someone is injured, call 911 so they can send an ambulance.
No matter how minor the injuries may seem to you, it would be best for a medical professional to evaluate you. It would be best to seek medical care as soon as possible. If you choose to wait longer than 72 hours, the insurance company may doubt the severity of your injuries.
Symptoms may not appear immediately following the accident, so you should get diagnosed and treated. Medical records may increase the chances of obtaining maximum compensation for your injuries.
If your car accident occurred on a freeway, then the California Highway Patrol may come to the crash scene. Try to move your car to the side of the road, if possible, and notify the local authorities so they can start an accident report. Make sure to ask for a copy of the police report, as it will serve as proof in your car accident claim.
The next step is to gather as much information as possible. Get the names, telephone numbers, insurance information, and addresses of the other drivers and passengers involved. If there were any witnesses, try to get their names and contact information as well. It would help if you started documenting the car accident scene by taking photos of your injuries, damage to the cars, skid marks, or tire tracks. If possible, record the surroundings.
Notify your insurance company about your accident and then the Department of Motor Vehicles (DMV). Under California law, it is mandatory to report a car accident to the DMV within ten days of the accident if it resulted in someone's death or caused more than $1,000 in property damage.
Last but not least, seek legal assistance from an Encino car accident lawyer to build a strong case so you can get a fair settlement for your injuries. Insurance companies may attempt to lower your compensation because they do not have your best interest in mind and are interested in saving money.
At The Law Offices of Rosenstock and Azran, we will work to get the best result in your car accident case while providing the necessary support. Our Encino auto accident lawyers are always concerned for our client's personal safety and well-being, so we understand the crucial factors of navigating a car accident claim.
Understanding California Car Accident Laws
Unfortunately, California is very often a nationwide leader in statistics related to motor vehicle accidents. California is an at-fault state, meaning the driver responsible for the accident is liable for paying the expenses of injuries and property damage sustained by the victims.
In addition, all cars registered with the State of California must be covered by insurance. Under California Vehicle Code §16056, all drivers must maintain a minimum coverage on their registered vehicles, as follows:
$15,000 for injury or death to one person
$30,000 for injury or death to more than one person
$5,000 for property damage
When requested by law enforcement, it is mandatory to show valid proof of insurance. You will also need proof of insurance if you were involved in a car accident and when renewing your vehicle registration.
Under California Insurance Code §11580.2, your car insurance provider is legally required to offer you an uninsured motorist bodily injury and underinsured motorist coverage. Both insurance policies will help you cover injuries and property damage if you are involved in a car accident with a driver who doesn't have insurance.
Uninsured motorist bodily injury coverage will pay for the cost of damages suffered by you and any passengers in your car. However, compensation will be limited to the amount of your liability coverage.
By comparison, underinsured motorist coverage will help you make up the difference if the at-fault driver doesn't have enough insurance to pay for the total cost of your injuries. While you are not legally required to purchase these two policies, you need to decline the coverage in writing.
As outlined in Cal. Code of Civ. Proc. § 335.1, you have two years from the date of the injury to file your personal injury claim. If you fail to do so, you will no longer be entitled to seek compensation because the court will refuse to hear anything about your car accident case.
Determining Factors of The Value of Your Car Accident in Encino, CA
Car crashes can cause severe consequences, and various factors determine the value of your settlement amount. They can either increase or decrease the compensation you receive.
The Extent of Your Injuries and the Accident Severity
The severity of the car collision is a vital determining factor in your car accident claim, and the severity of your injuries shows the seriousness of the car accident. The determining factors of your personal injury claim include:
Diminished quality of life
Catastrophic injuries such as spinal cord damage, nerve damage, or brain trauma
A permanent injury such as loss of limb, paralysis, disfigurement, or scarring
An undetermined recovery period
Reliance on medication or medical devices
Pain, suffering and mental anguish following the car accident
Future accident-related expenses and needs
Past, present and future lost earnings
Suppose you have sustained minor injuries such as strains, sprains, or bruising. In that case, your car accident case will most likely result in lower settlement amounts. Additionally, the insurance company will most likely try to reduce your settlement by devaluating your car accident claims if one of the following factors is present:
Medical expenses were meant for diagnosis and not treatment
You had no permanent injury
No medication was prescribed for your injuries
You only received brief medical treatment
You had a pre-existing medical condition
Less experienced attorneys may not recognize or understand the technical medical issues which often make the difference between a "minor injury" and a significant injury, which can result in substantial monetary compensation. The help of an experienced and aggressive car accident lawyer, like The Law Offices of Rosenstock and Azran is vital in such cases.
Proof of Negligence
In order to obtain the maximum compensation for your car accident case, you and your car accident attorney must prove that the other party was at fault for your injury. The core element of your injury claim or lawsuit is proving negligence. So, you need to prove that:
The at-fault driver owed you a duty of care
The at-fault driver breached this duty
The reckless or negligence of the at-fault driver caused the car accident
The car crash directly caused your injuries or financial losses
If you seek to file a claim against a government entity, you need to prove negligence due to poor road maintenance, marked construction zones, or defective road design.
The Quality of Evidence
At The Law Offices of Rosenstock and Azran, we understand how vital it is to gather, preserve, and present evidence. Our car accident attorneys will conduct interviews and collect testimonies from all car accident witnesses, present photos of your injuries and property damage, and obtain police and medical records. We will also use our skills and experience to cite the vehicle codes of the traffic laws relevant to your car accident case.
How to Recover Compensation After a Car Accident in Encino
If you have been the victim of an accident in Encino, you are entitled to compensation for the negligence of the other party's actions. We are here to get you the compensation that you deserve. But what happens when it is not enough to cover your bills, or even worse, the insurance company denies your claim? The Law Offices of Rosenstock and Azran are here to help.
Often an insurance company will try anything to find the other party liable to try and reduce their accountability. If your claim has been denied, or the settlement you were given does not cover your losses, then we will file a lawsuit on your behalf. This lawsuit will be for any damages that were not granted in your initial settlement.
Your claim may not make it to a trial, but we will be prepared to pursue that avenue if needed. Insurance companies will sometimes make an insultingly low settlement offer, hoping you will agree to settle for less than you deserve. The sad truth is their settlement offer is typically a fraction of what your claim is worth, and they are only offering it because they want to pay as little as possible for your claim.
We know all the tactics insurance companies use to get claimants to settle for less than what they are entitled to. We will fight fire with fire and recoup your losses in full.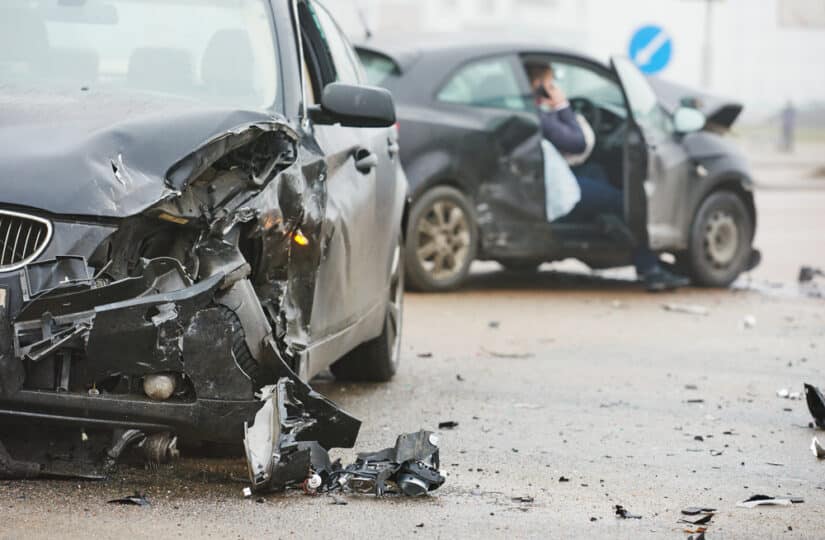 The Benefits of Working with a Car Accident Attorney in Encino
The aftermath of a car accident can be both overwhelming and frightening. If you are involved in an accident, you will need help from an Encino car accident attorney to help you get the compensation you deserve for your pain and suffering, injuries, lost income, damaged property, and more.
The personal injury laws and procedures can be a confusing process. They can become even more complex when insurance companies refuse to offer a fair settlement. Hiring one of our Encino car accident lawyers is a wise decision because we have the knowledge and skill to counter the insurance company's efforts to lower the settlement offer as much as they can.
If you are not happy with any potential settlement offer, we will continue negotiations, and if needed, we will take your case to court. We are dedicated to helping our clients recover and return to their daily activities as soon as possible. Our team is also there for the car accident survivors, to save them from the burden of medical expenses and fight to get them a fair settlement in cases of wrongful death.
If You Have Been in a Car Accident, Choose The Law Offices of Rosenstock and Azran
At The Law Offices of Rosenstock and Azran, we will assist you in getting maximum compensation. We will act on your behalf until the car accident case is resolved via settlement or trial. You won't have to interact with the insurance companies involved, as we will handle all the talks and negotiations and protect your best interests.
If, after several negotiations, the insurance company still offers a lower settlement than you deserve, we will take the at-fault driver to court and hold them accountable for the maximum compensation available in your car accident case.
Our Encino, CA, car accident attorneys care about all their clients and promise to work diligently until they receive justice. We will show you the compassion you deserve. Get legal representation as soon as possible to guide you throughout the entire process. Contact our office today at (818) 986 2052 to schedule a free consultation with a car accident attorney. Let us do the hard work and fight for the compensation that you deserve while you recover. We are here to fight for you 24/7.