Pedestrian Accident Lawyer Encino
If you are in areas with traffic, it is your responsibility to be careful of large and heavy vehicles along your path. When you reach an intersection, regardless of crosswalk indicators, you must look for stop signs, traffic signals, and oncoming traffic before attempting to cross the road. Keep in mind the majority of pedestrians who suffer accidents are hit by vehicles at intersections.
Many campaigns have been launched to create awareness about the dangers of being hit by a moving vehicle. However, statistics show the number of injured pedestrians has not decreased. Many children are among the severely injured or even fatal victims of pedestrian accidents each year.
If you or a loved one has been injured or lost their life in a pedestrian accident, the legal team at The Law Offices of Rosenstock and Azran is ready to help you fight for the compensation you need. With proper compensation, victims can cover losses and, most importantly, recover their health.
Our legal team has represented victims of pedestrian accidents in Encino and the surrounding areas and is standing by to help you as well. Schedule an initial consultation to tell us your story. We offer legal guidance and build a strong case to receive the compensation you deserve. Call us today.
Helping Victims of Pedestrian Accidents
The legal team at The Law Offices of Rosenstock and Azran is ready to assess the circumstances of your accident and establish a strategy to assist a pedestrian accident claim. We offer aggressive dedication, expert resources, and in-depth knowledge aimed at resolving claims in your favor.
We have helped countless victims of pedestrian accidents in cases such as:
Pedestrians being knocked down during the day or at night.
Accidents involving runners, rollerbladers, skateboarders, and other athletes.
Pedestrians being hit by moving vehicles including cars, trucks, or motorcycles.
Pedestrian and bicycle accidents.
We have the experience needed to satisfy the burden of proof in any pedestrian accident claim. We interview witnesses, record statements, review pictures and videos of the accident scene, analyze the police report for any inconsistencies or other important information, study medical records regarding any injuries, and take all steps necessary to build a strong case for any claim. Call us today for a free consultation.
Main Causes of Pedestrian Accidents
Pedestrian accidents are often the fault of motor vehicle operators. Among the most common causes of these accidents are:
Speeding drivers
Drivers who fail to obey traffic signals
Drivers who fail to yield the right of way to pedestrians
Drunk or reckless drivers
Distracted (cell phone use, eating, writing, texting) drivers
Inattentive drivers
Impatient drivers
Recently, distracted driving has been added to the list. Currently, distracted driving is the most common cause of motor vehicle accidents involving pedestrians. This refers to pedestrians getting hit by cars with drivers who are texting, otherwise using their phones, eating, drinking, talking to passengers, looking at a map, or any other distraction.
Pedestrian Accident Injuries
Pedestrian accidents often result in severe and long-lasting injuries. Among them:
Bumper Fractures
The term bumper fractures is used to describe a pedestrian who has been struck by a moving vehicle in their pelvis and legs. This can often lead to the breaking or fracturing of several bones at once.
Being "Scooped"
This injury occurs when a pedestrian is lifted from the ground by the front of a car and makes contact with the car's hood and windshield. Driver's often realize what has happened and hit the brakes. This can further compound injuries since the pedestrian could potentially be thrown to the ground. These accidents often lead to receiving further injuries to their brain, spinal cord, and pelvic bones.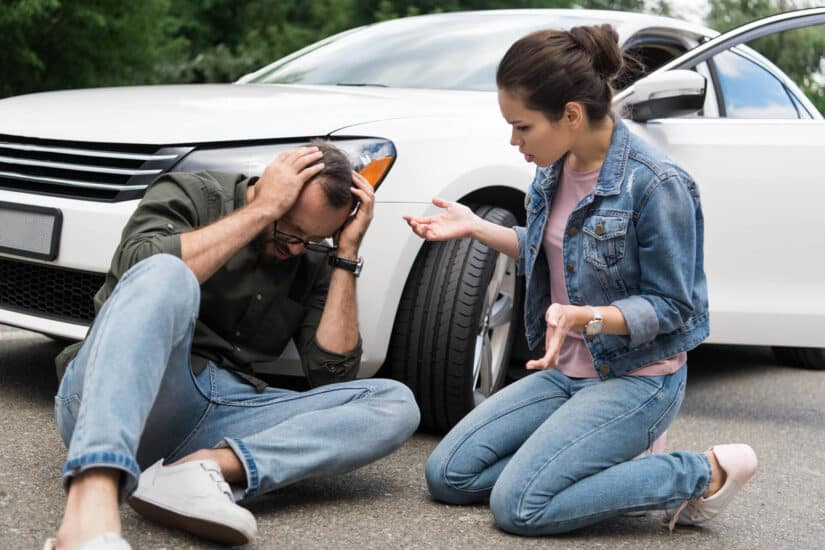 Other Injuries
Other injuries pedestrians suffer include head, neck, back, spinal disc, musculoskeletal, brain, chest, abdominal, facial, and bones in the lower legs, knees, and more.
Emergency Care for Pedestrian Accidents
Immediate medical attention is crucial in cases of pedestrian accidents. This is because injuries tend to be extensive and severe. Statistics show that most pedestrian accident deaths occur before hospital arrival due to their severity. Arriving at a trauma center as quickly as possible after an accident can increase the victim's chances of being stabilized and evaluated by a medical expert. Many cases call for the injured patient to be transferred to a more specialized trauma center in an attempt to reduce mortality rates.
Injured pedestrians must always be treated with the utmost care because their injuries often involve brain and spinal trauma. Even pedestrians whose injuries appear to be less severe can be suffering from internal hemorrhage.
Pedestrians usually sustain injuries to several different areas of the body and their treatment can be quite challenging. Victims are often not able to recall what happened and witnesses tend to exaggerate the speed or direction of the collision.
Get Legal Help Now
At The Law Offices of Rosenstock and Azran, we are concerned about all our clients who have suffered injuries due to pedestrian accidents. We have seen the destruction these accidents can cause to the human body. Whether you, your child, or another family member is the victim of a pedestrian accident, working with our legal team will allow the time to focus on achieving a complete recovery. Meanwhile, The Law Offices of Rosenstock and Azran will take care of the legal aspects of your claim.
We will conduct an investigation into the accident, interview any witnesses, analyze the police report, assemble medical records, look for surveillance video of the incident, and gather all evidence to build a strong accident injury case. We can also help you put a value on the case by adding up all your economic and non-economic damages. We promise to work tirelessly to ensure you get the compensation you deserve. Schedule a free consultation today.