Car Accident Lawyer North Hollywood
Getting injured in a car crash in North Hollywood or the surrounding areas can turn your life upside down. If you were injured due to another's negligence, you need a dedicated car accident attorney on your side to pursue your car accident claim and obtain the largest possible compensation on your behalf.
At The Law Offices of Rosenstock and Azran, we are committed to helping injured parties obtain the maximum compensation they are entitled to under the law. Our 36-year history, with over 75 years of combined experience in personal injury law and a 99% success rate puts us in a class by ourselves. This is just one of the reasons why our attorneys are featured among the Top 100 Trial Lawyers.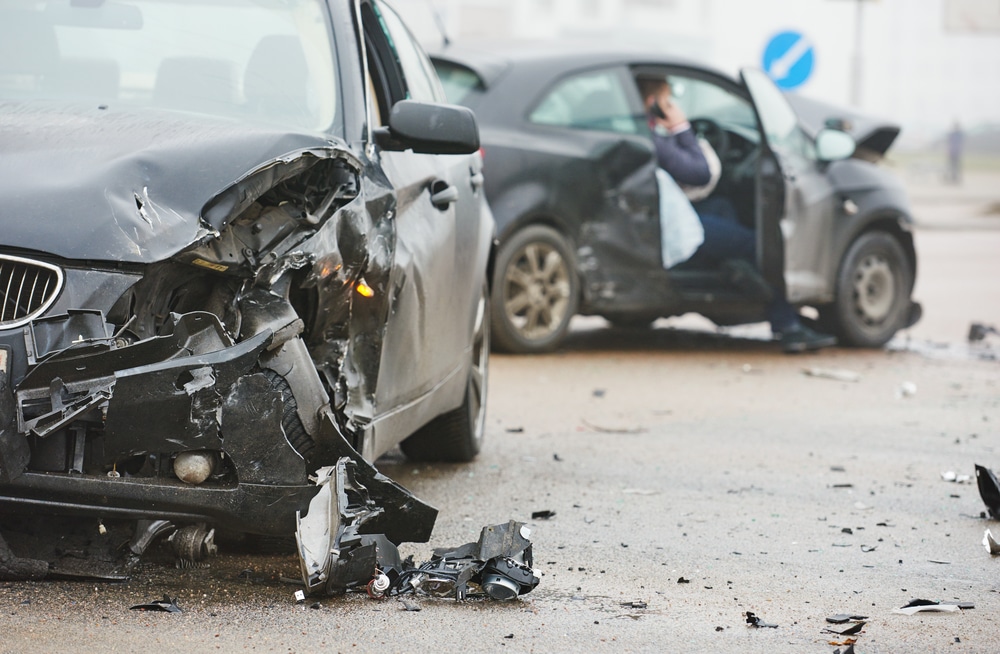 Common Types of Car Accidents in North Hollywood, CA
Our auto accident lawyer will help you recover a personal injury claim if you were injured in any of the following types of auto accidents, among others:
Rear-End Collisions: Rear-end collisions are among the most common types of accidents in North Hollywood, accounting for approximately 30% of all reported accidents in the area.
Intersection Accidents: Running red lights, failing to yield, and distracted driving at intersections constitute 20% of all accidents.
Side-Impact Collisions (T-Bone Accidents): Side-impact collisions make up around 15% of reported accidents in North Hollywood. Failing to yield the right-of-way, running stop signs, and improper lane changes are primary causes of T-bone accidents.
Single-Vehicle Accidents: These accidents can result from factors such as speeding, driving under the influence, and adverse weather conditions. Distracted drivers make up 10% of total accidents in the Beverly Hills area.
Multi-Vehicle Pileups: Multi-vehicle pileups, although less common, can be particularly severe when they occur. They represent 5% of car accident cases in North Hollywood, California.
Hit-and-Run Accidents: Hit-and-run accidents are a growing concern, making up approximately 8% of reported accidents in North Hollywood, Sherman Oaks, Van Nuys, and the Santa Ana area.
Vehicle accidents in the scenarios listed above may constitute clear liability, and the insurance adjuster might accept liability on behalf of their insured because they often have no choice. Insurance companies are well-versed In California Law Principles In this context, which includes the premise that, although a claim may have "clear liability," the injured claimant is still required to prove the legal issues of "causation" and "damages" to prevail with the designated valuation of their claim.

From a practical standpoint, that gives the insurance industry enhanced weapons to use against the injured claimant, even in a clear liability case. When challenging "causation" in that scenario, insurance companies will often assert that the claimant's injuries are not the direct result of the accident. Their reasoning for that argument includes doctrines of pre-existing conditions, chronic conditions, degenerative conditions, and their favorite, "low-speed impact" defense, invoking the bio-mechanical analysis argument that the subject's impact did not have injury-causing potential.
Types of Motor Vehicle Accident Injuries That Get High Compensation in Los Angeles, CA
Certain types of severe injuries may lead to a higher settlement offer. This is because of the extensive Past, Present, And future medical costs, income loss, and prolonged pain, suffering, and mental anguish among other lifelong consequences. Do not let an insurance company tell you otherwise. We can help you obtain maximum financial compensation for these types of serious injuries and more:
Traumatic Brain Injuries (TBIs): Injuries to the brain can lead to cognitive impairment, PTSD, and behavioral and emotional changes.
Spinal Cord Injuries: Damage to the spinal cord can result in paralysis and chronic pain.
Spinal column injuries: Even if the X-rays are normal, there is no blood, broken bones, visible sign of injury, and the spinal cord is intact, a traumatic event can inflict Damage to the spinal column, vertebrae, Intervertebral discs, neural foramina, exiting nerve roots, facets, sinuvertebral nerve, etc…Clinically Significant symptoms and complaints may result, including Shooting pain, Numbness and tingling, Compromised reflexes, Weakness in the extremities, Limited range of motion, Chronic pain, etc…
Amputations: Losing a limb due to an accident often requires huge compensation, not only to cover past, present and future medical costs, prosthetics, and rehabilitation, yet also the astronomic pain, suffering, mental anguish, and severe emotional distress associated with this type of catastrophic injury.
Severe Burns: Extensive burn injuries may require higher compensation due to the need for medical treatment, skin grafts, hyperbaric chamber treatment, long-term scarring, and also the pain, suffering, mental anguish, and severe emotional distress, including embarrassment, depression, and PTSD often associated with this type of catastrophic injury.
Complex Regional Pain Syndrome (CRPS): This is a form of chronic pain that is often experienced in an arm, hand, finger(s), leg, foot, toe(s), with symptoms which include burning, throbbing, pain, hypersensitivity to touch, cold, fabrics, skin irritation; Changes in skin temperature, coloration, and texture; and Pain, Stiffness, Swelling, Spasms, Tremors, Weakness, And limited range of motion in the affected body part. While this condition is often overlooked by healthcare practitioners, and misunderstood by less experienced attorneys, we at the Law Offices of Rosenstock And Azran have experience with this, and other complex injuries to protect all your rights.
Multiple Fractures: Suffering multiple broken bones can result in higher compensation to cover medical expenses, surgeries, and the impact on daily activities.
Internal Organ Injuries: Injuries to internal organs, such as bruising, contusions, and lacerations to the kidney, liver or spleen, may lead to compensation for surgeries and potential long-term consequences.
At the Law Offices of Rosenstock and Azran, we are well versed in the medical principles necessary to identify, understand, convey, argue, and valuate these, and other injuries. We can assess your unique circumstances to build a strong North Hollywood car accident case and get you the compensation you are entitled to for your injury and other damages.
How Much Do Car Accident Lawyers Charge in California?
The knowledgeable and proven car accident attorneys at The Law Offices of Rosenstock and Azran will help you recover maximum compensation on a contingency fee basis. This means that we will only be paid a percentage of your settlement or court award. If your personal injury case does not result in compensation, you do not owe us any fees. For qualifying cases, we do not request any fee for specific services, such as reviewing documents or providing legal advice.
Our Experienced Attorneys Can Protect You from Insurance Company Tactics
Insurance companies often employ tactics like the following to reduce settlement offers in car accident claims:
Quick Settlements: They may offer lower amounts early in the process, hoping that you will accept (and sign away all your legal rights, even if you are later determined to have a more serious injury, or the case turns out to have more significant settlement value) before realizing the full extent of your car accident injuries.
Downplaying Injuries: They try to minimize the seriousness of injuries and may request extensive medical records to scrutinize and diminish your condition.
Shifting Blame: Insurers might attempt to shift blame onto you, arguing that you were partially or entirely at fault for the accident. This is done to reduce their payout.
Lowballing Damages: They may undervalue various injuries and damages, including medical bills, property damage, lost wages, and emotional pain and suffering, using insurance industry-standard formulas and principles that might not accurately reflect your unique situation.
Prolonged Negotiations: Insurance companies may engage in prolonged negotiations, with the hope that you will become financially strained or desperate for a resolution, making you more likely to accept a lower offer.
Many of these tactics are employed by the insurance industry to challenge the injured victims' attorney to see if they have the skills, experience and stomach for litigation. While some lawyers may not, and just want a quick settlement, we at the Law Offices of Rosenstock and Azran will not hesitate to file a lawsuit and seek court redress if we sense the slightest indication that the insurance adjuster is playing games, deliberately dragging their feet, or not making a reasonable and diligent effort to settle the claim for a fair amount.
Our law firm has built a reputation for securing substantial awards on behalf of our clients. Dennis I. Rosenstock, David A. Azran, and our dedicated legal team will fearlessly advocate for your rights, ensuring you receive every penny you deserve.
Types of Compensation for Car Accident Victims
If you have been injured in a car accident, you may be entitled to various types of compensation to help you recover physically, financially, and emotionally. You should get legal representation to obtain:
Medical Expenses: This includes compensation for all past, present, and future medical bills related to the accident, such as hospital stays, surgeries, medications, rehabilitation, and therapy.
Lost Wages: We can help you recover compensation for the income you have lost. This may also cover future earning capacity if your injuries result in a long-term disability.
Property Damage: We can obtain reimbursement for the repair or replacement of your vehicle and any personal property damaged in the accident. That includes "loss of use" recovery for reimbursement for rental car or a loaner vehicle expenses during the time your vehicle is not driveable and/or being repaired.
Pain and Suffering: Non-economic damages like pain, suffering, mental anguish, and emotional distress (including post-traumatic stress disorder), and reduced quality of life can be compensated. While these damages are often subjective and vary from case to case, we at the Law Offices of Rosenstock and Azran have the skills, experience and knowhow necessary to accurately valuate pain and suffering to obtain full and fair compensation.
Loss of Consortium: This compensation covers the loss of companionship, support, and intimacy that the accident may have caused in your relationships with your spouse or family members.
Punitive Damages: In cases of driving under the influence, distracted driving (ie. cell phone use, texting, eating, applying makeup, etc…) extreme negligence or intentional wrongdoing, punitive damages may be awarded to punish the responsible party and deter similar behavior.
Why Should You Choose The Law Offices of Rosenstock and Azran?
An experienced North Hollywood car accident attorney from our law firm can make all the difference if you or others involved in the accident suffer serious injuries that require extensive medical treatment. We can help if there is a dispute over liability, complex legal issues, or the involvement of multiple parties.
Our experienced lawyers are invaluable when dealing with insurance disputes, including denied personal injury claims or inadequate settlement offers. If a settlement cannot be reached, we are prepared to take your personal injury lawsuit to trial to obtain maximum compensation for your physical injuries and physical and emotional pain. In cases of wrongful death resulting from the accident, lawyers can help the surviving family members pursue fair compensation.
Timeliness is essential due to California's statute of limitations, making it wise to consult us as soon as possible. We bring legal knowledge to the table that helps in maximizing potential compensation. As your dedicated personal injury attorney, you can depend on us to handle the legal challenges while you focus on recovery.
Types of Evidence Our Car Accident Lawyers Collect to Prove Liability
A skilled car accident lawyer in North Hollywood from The Law Offices of Rosenstock and Azran will gather the following types of vital evidence to establish liability of the other driver beyond doubt:
Police Reports
Witness Statements
Accident Reconstruction
Photographs and Videos
Medical Records
Expert Testimony
Cell Phone Records
Driver Statements
Traffic Violations
Vehicle Maintenance Records
Black Box Data
Surveillance Footage
Weather and Road Conditions
Driver History
Eyewitness Testimony
We Will Fight to Maximize Your Personal Injury Compensation
At The Law Offices of Rosenstock and Azran, our experienced car accident lawyers take a client-focused approach to personal injury law, prioritizing your goals for maximum recovery. We do not aim to handle countless cases – we aim to obtain the best possible outcome for each claim. Insurance companies recognize our commitment to clients, knowing that we will utilize our full legal firepower and resources to protect your right to compensation. Schedule your free consultation by calling us at (818) 805 0422 or contact us online.