Car Accident Lawyer Canoga Park
Auto accidents can be traumatic and life-altering events. Accident victims can be left struggling with mounting medical bills, lost wages, and pain and suffering. At The Law Offices of Rosenstock and Azran, our experienced car accident attorney team is here to guide you through the legal process, ensuring your rights are protected. With over 82 years of combined experience serving the Canoga Park community, the car accident attorneys at our law office can help you recover maximum financial compensation.
Services Offered by The Law Offices of Rosenstock and Azran
Types of Automobile Accidents We Handle:
Rear End Collisions
T-Bone Accidents
Hit-and-Run Incidents
Drunk Driving Accidents
Distracted Driving Accidents
Unsafe speed incidents
Red light violation incidents
Stop sign violation incidents
Left turn violation incidents
Right of way violation incidents
Road rage incidents
Dart out violation incidents
Driver door opener violation incidents
Unsafe lane change incidents
Unsafe stop incidents
Unsafe vehicle roadworthiness incidents
Common Car Accident Injuries For Which We Obtain Maximum Compensation:
Whiplash
Fractures
Traumatic Brain Injuries
Spinal Cord Injuries
Burn injuries
Intervertebral disc injuries
Internal bleeding
Organ laceration injuries
Dislocation injuries
Subluxation injuries
TMJ injuries
Bruise, contusion, abrasion injuries
Vision injuries
PTSD injuries
Pain, suffering and mental anguish
Chronic injuries
Permanent Disability
Emotional Distress
We base our arguments and claims on the severity of personal injuries and accident type and can provide you with solid legal assistance. Book your free consultation with a car accident lawyer at Canoga Park today.
How Much Do Car Accident Lawyers Charge in California?
Car accident lawyers at Canoga Park typically charge for their services on a contingency fee basis. This means that instead of charging an upfront fee, we receive a percentage of the compensation you obtain from your car accident claim. If we do not recover financial compensation, you do not owe us anything.
The specific percentage of the contingency fee can vary based on several factors, including the complexity of the case, the evidence available, and the time elapsed since the accident. The specific percentage can vary, but ours is typically around one-third (33 1/3%) of the total settlement amount. It is our experience that, with legal representation in injury cases, injured victims usually collect more compensation than by handling the claim on their own. Our auto accident attorneys can offer a free initial consultation to assess your case. During this consultation, we can discuss the fee structure to ensure you have a clear understanding. You should never allow money to keep you from obtaining solid legal representation.
What Can You Expect from The Law Offices of Rosenstock and Azran
Our firm has been recognized with prestigious awards for our commitment to excellence in personal injury law. We are proud of our 99% success rate in car accident cases involving personal injury. This can be attributed to our eight decades of combined experience, passion for ensuring injured individuals always come out on top, and our commitment to providing personalized individual attention from our attorneys. At the Law Offices of Rosenstock and Azran, clients can always reach and speak with one of the senior partners, Dennis I. Rosenstock and David A. Azran. In addition, they are always available for free consultations with prospect clients.
Guided by the leadership of Dennis I. Rosenstock and David A. Azran, our attorneys have consistently delivered significant settlements and verdicts for our clients, with the goal of receiving full and fair compensation needed to progress with confidence. Your case is unique, and we provide customized legal strategies to meet your specific needs and goals. Insurance companies know we are not afraid to fight for our clients by: having attorneys (and not staff personnel "negotiators", like some other law firms) argue and negotiate their claim; file a lawsuit and go to court, and proceed to Trial to prosecute the claim. In other words, we will stand up to the insurers to ensure you are treated fairly.
This is what you can expect from us when you retain our services:
Free Consultation: We offer a no-obligation, free consultation to discuss your case and assess its merits.
Comprehensive Investigation: We leave no stone unturned, gathering evidence, speaking with witnesses, and reconstructing the car crash to build a strong case.
Negotiation: Your personal injury attorney will negotiate aggressively with insurance companies to recover a fair settlement. If negotiations fail, we are ready to go to court on your behalf.
Transparent Communication: You will stay informed at every step, and we are always available to answer your questions.
Maximized Compensation: Our personal injury attorneys have a singular goal: to maximize your compensation so you can cover your medical bills, car repairs, MRI bills, Chiropractor bills, physical therapy bills, lost income, pain and suffering, and more.
Types of Evidence We Can Obtain for Your Personal Injury Claims
At The Law Offices of Rosenstock and Azran, we can gather the following types of evidence to support your car accident lawsuit:
Accident Reports: We will obtain a copy of the official police report filed at the scene of the accident. This report often contains important details about the accident, statements from involved parties and witnesses, and the officer's assessment of fault.
Witness Statements: We will interview witnesses who saw the accident happen. Their statements can provide valuable eyewitness accounts that support your version of events.
Expert Testimony: Our legal team consists of accident reconstruction experts, medical professionals, and other experts who can provide testimony to support your case. They can offer their professional opinions on factors like liability, severe injuries, and damages.
Driver Statements: Your dedicated injury lawyer will obtain statements from the drivers involved in the accident. This can include statements made to the police at the scene, as well as recorded statements taken later during the car accident claims process.
Vehicle Maintenance Records: If a lack of vehicle maintenance or mechanical issues played a role in the accident, we will obtain maintenance records, repair bills, and inspection reports.
Traffic Camera Footage: If the accident occurred at an intersection or in an area with surveillance cameras, our law firm will request footage from nearby traffic cameras that may have captured the accident.
Cell Phone Records: In car accident cases involving distracted driving (such as texting while driving), we will request cell phone records to establish whether the other driver was using their phone at the time of the accident.
You should speak to an experienced personal injury lawyer today to recover compensation for the impact of the damages on your life. We can also help you obtain justice through punitive damages.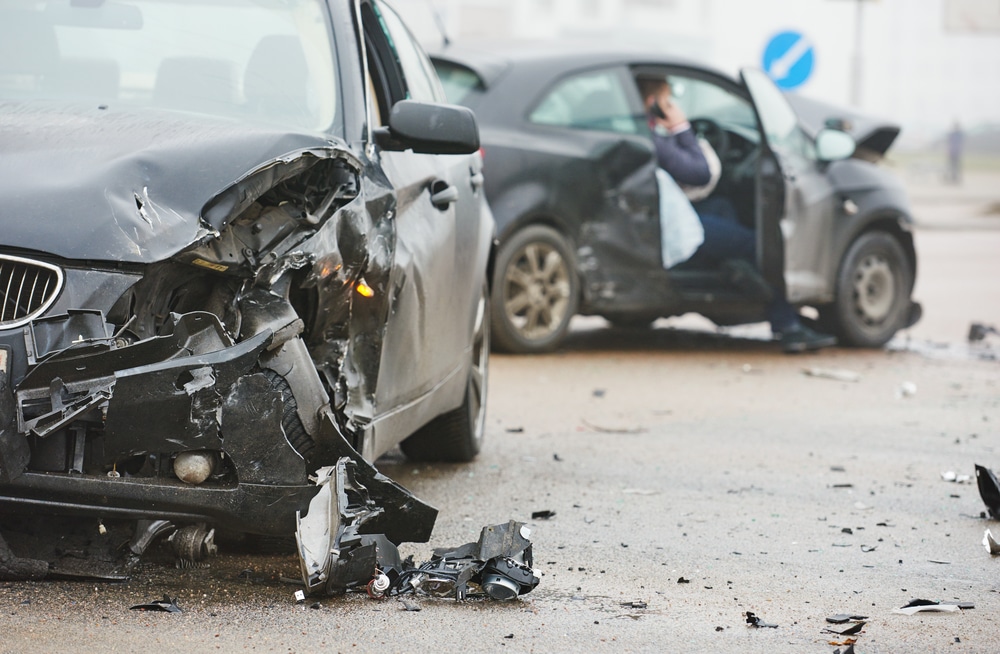 When To Consult a Car Accident Law Group in Canoga Park?
These are some of the instances when you should consider contacting a car crash lawyer:
Bodily Injuries: If you or any other party involved in the accident sustained bodily injuries, including serious injuries that require hospitalization, surgery, skin grafts, hyperbaric chamber treatments, neuropsychological counseling, outpatient surgery, pain management treatment, dental treatment, physical therapy, chiropractic care, acupuncture, or long-term care, you should reach out to us. We can help you pursue compensation for past, present and future: medical expenses, lost wages, pain and suffering, and other damages arising from your injuries.
Disputed Liability: If there is a dispute about who was at fault for the accident, our lawyers can investigate the circumstances, gather evidence, interview witnesses, hire experts, and conduct accident reconstruction analyses, to establish liability to protect your interests.
Complex Cases: In car accidents involving multiple vehicles, commercial trucks, or other complex factors, the legal process can become complicated. With our extensive experience and resources, we are well-versed and fully qualified to handle complex cases.
Uninsured or Underinsured Motorists: If the negligent party is uninsured or underinsured, we can explore options for compensation through your insurance policy or other sources. Technical legal requirements make it challenging for less experienced attorneys to effectively handle these types of claims. Technical issues of insurance coverage and statutory remedies overlap with Liability, Causation, and Damages issues require a special set of skills, which we possess and practice routinely.
Property Damages: If your vehicle sustained significant damage and the insurance company disputes the value of your claim, we can help you seek compensation for repair or replacement costs.
The statute of limitations for filing a Canoga Park personal injury lawsuit, including those related to car accidents, is typically two years from the date of the accident. Few
exceptions exist, and we are knowledgeable about them. If you fail to file your lawsuit within this time frame, you may lose your right to pursue a legal claim for your injuries. It is in your best interest to speak with one of our Canoga Park, CA lawyers for a free case evaluation as soon as possible.
How Do We Maximize Your Compensation?
California follows comparative negligence, which means that both parties involved in an accident can share some degree of fault. Even in good and clear cases, on occasion, insurance companies will cite that legal principle to try to diminish the recovery of injured victims, and it can affect the amount of compensation you get. These are a few of the defense strategies our personal injury lawyers are confronted with routinely and they are fully able to combat them to obtain the best possible compensation:
Evidence Collection
We will collect evidence that proves your actions did not contribute significantly to the accident. This may involve medical records, accident reconstruction reports, and expert testimony to demonstrate that your actions were reasonable under the circumstances.
Expert Witnesses
We will consult with accident reconstruction experts and medical professionals to provide expert testimony that supports your version of events and injuries. We are fully capable of generating a "speed, time, distance analysis" to help prove that liability is in your favor.
Eyewitness Testimony
We will gather witness statements from individuals who were present at the scene of the accident. Their testimonies can help corroborate your account of the events and refute claims of responsibility for the accident.
Legal Arguments
We will craft persuasive legal arguments that highlight the other driver's negligence as the primary cause of the accident and injuries. This will involve citing relevant traffic laws and regulations.
Negotiations
At the Law Offices of Rosenstock and Azran, only the senior partners engage in strong negotiations with the opposing party and their insurance company. Our attorneys will present evidence and arguments effectively to maximize the settlement offer.
Achieving rightful compensation in personal injury cases involving comparative negligence requires a strategic and evidence-based approach. Our goal as your attorney is to build a compelling car accident case that demonstrates your entitlement to a fair and just settlement or court award, taking into account the degree of fault assigned to all parties involved.
Our Capable and Resourceful Car Accident Lawyers are Ready to Fight for You
Are you or a loved one grappling with the aftermath of a car accident? Our highly skilled car accident attorneys are standing by to ensure every avenue of compensation is explored and leveraged. Our seasoned attorneys bring extensive experience to the table, coupled with genuine empathy for your situation. To set up your free consultation with our legal team, call (818) 805 0422 or reach us online.